Get Your FREE CHOMPS Meat Snacks Sample
June 7, 2023, BY Emma Craig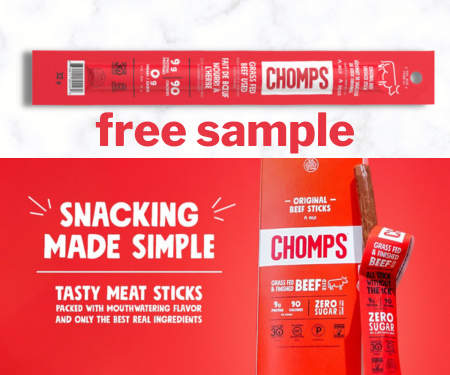 Satisfy Your Cravings with CHOMPS!
Got a hankering for some scrumptious meat snacks? You're in luck! CHOMPS meat snacks are here, and they're giving away delicious samples through the "Send Me a Sample" program. Trust us; your taste buds are in for a treat!
Founded in 2011, CHOMPS isn't just any meat snack brand. As a minority-owned business, they're passionate about crafting wholesome, protein-rich snacks. Using only real meat, fresh ingredients, and a mix of tantalizing seasonings, each bite offers 9-10g of protein. It's the ideal munch for those always on the move. Dive into guilt-free snacking with CHOMPS!
Variety is the spice of life, and CHOMPS knows this. With three sustainably-sourced proteins to pick from, you're spoiled for choice. Relish in the richness of 100% grass-fed beef & venison or the tenderness of antibiotic-free turkey. These snacks are sugar-free, and boast certifications such as Whole30 Approved, Keto Certified, and Certified Paleo. Plus, they're allergy-friendly – catering to a slew of healthy diets.
Eager to snag a sample? It's a cinch! Just follow these steps:
Open up the Amazon Alexa app and register for a "Send Me a Sample" account.
Key in the required info and confirm your email.
Shout out to your voice assistant, "Ask Send Me a Sample for Chomps", and voila, your request is in!
But zip to it! There are only 25,000 Chomps Original Beef Stick samples available. And remember, it's one sample per "Send Me a Sample" user and address.