Free Tom Ford Soleil Neige
November 21, 2023, BY Liliana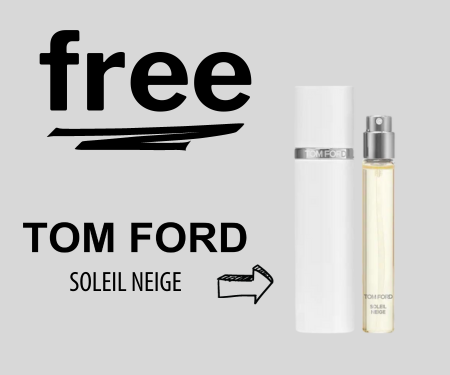 How to Snag Your Free Tom Ford Soleil Neige Sample
Are you ready to immerse yourself in the enchanting scents of winter? Tom Ford invites you on a sensory journey with a complimentary sample of their exquisite Soleil Neige Eau de Parfum. The best part? It's absolutely free! Before you start wondering if this is too good to be true, let me guide you on how you can get your hands on this luxurious fragrance without spending a dime.
Tom Ford is currently spreading the winter magic through sponsored posts on Facebook and Instagram.

To snag your free sample, keep an eye out for the sponsored ad in your social media feed.
Tips and Tricks to Secure Your Free Sample:
Engage with Tom Ford Beauty:

Follow Tom Ford Beauty on Instagram or Facebook (or both).
Show your interest by engaging with their posts. Like, comment, and share to increase the likelihood of the sponsored ad appearing in your feed.

Express Your Fragrance Fascination:

Search for Tom Ford fragrances online, particularly Soleil Neige.
Visit fragrance retailers like Macy's, Bloomingdale's, Amazon, or Tom Ford's official website to express your interest.

Tailor Your Ad Preferences:

Fine-tune your social media ad settings. Ensure you're targeted for beauty and luxury goods advertisements.
This increases the chances of the Tom Ford Soleil Neige sample ad popping up in your social media feed.
When the sponsored post appears in your feed, recognize the golden opportunity. Click on the ad to explore the details and ensure it's the Tom Ford Soleil Neige fragrance. Fill in the necessary details to claim your free Tom Ford Soleil Neige sample.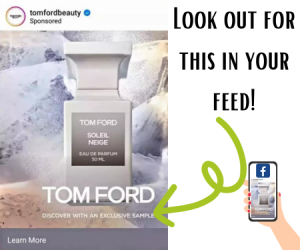 Remember, this isn't a promotion by us or any third party—it's Tom Ford's generous offer. So, why not elevate your winter experience with a touch of luxury? Actively engage, express your interest, tailor your preferences, and let the magic of winter unfold with Tom Ford's Soleil Neige. Happy scent hunting!
Want more free stuff? Check out our Free Samples Page