FREE Ring Sizer: Request Yours!
June 7, 2023, BY Emma Craig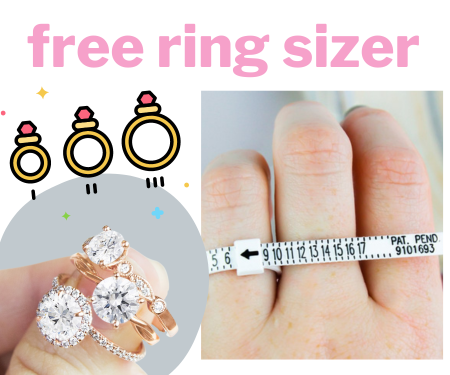 Have you ever second-guessed your ring size? Nothing worse than owning a piece of jewelry that doesn't quite fit right? Accordingly, Brilliant Earth has the perfect solution for you – a complimentary ring sizer to help you determine your ring size accurately from the comfort of your home.
To secure your free ring sizer, head over to the Brilliant Earth website. This free-of-charge service is open to residents in the US and Canada, with the ring sizer expected to reach you within five to seven business days. Do note that deliveries to the UK and Australia may require a slightly longer waiting period.
While your free ring sizer is on its way, you can use Brilliant Earth's Ring Sizing Guide to measure a ring you already own.

Ensure the ring you measure fits the exact finger (and hand) you are intending to purchase a ring for.
To utilize the guide effectively, print it, keeping the page scaling at "none". Lay your current ring over the size circles provided in the guide, aligning it with the inside edge of your ring. The guide also enables you to create your own ring sizer. Simply cut out the sizer, wrap it tightly around the widest part of your finger, and ensure the numbers are visible. Insert the pointed end through the slit you've made, and the number that aligns with the slit represents your ring size.
In conclusion, say goodbye to guesswork and uncomfortable, ill-fitting rings. Request your free ring sizer today to ensure the perfect fit every time you purchase a ring.
Want more free stuff? Check out our Free Samples page. To claim your free sample click here.