Free Ready to Heat Rice by Lundberg Family Farms
September 18, 2023, BY Emma Craig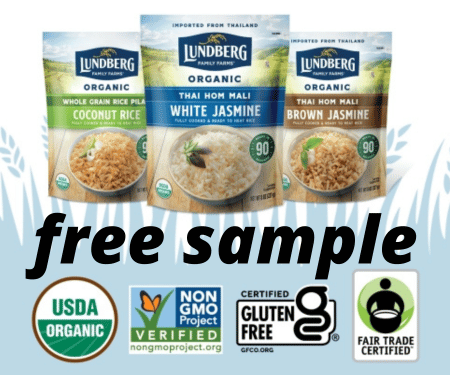 How to Score a Free Ready to Heat Rice Sample
Today, I've stumbled upon a delightful opportunity that I can't wait to share with you. Imagine savoring the flavors of Lundberg Family Farms' Ready to Heat Rice, and the best part? You can get a sample for free! In this blog post, I'll walk you through how to claim this delicious freebie without any hassle.
The first step to enjoying this mouthwatering treat is obtaining your voucher. This voucher is your golden ticket to a delectable experience.

It entitles you to one FREE packet of Ready to Heat Rice, 8oz (227g). How amazing is that? Scroll down for the direct link.
Lundberg Family Farms offers a range of tantalizing options. You can take your pick from these participating varieties:
Organic White Jasmine 90 Second Rice
Organic Brown Jasmine 90 Second Rice
Organic Coconut 90 Second Rice
Lundberg's Ready to Heat Rice is known for its quality and flavor. With just 90 seconds in the microwave, you'll have a piping hot, perfectly cooked bowl of rice ready to enjoy. Now, here's the important part – this isn't a promotion from my website or me. It's a genuine offer from Lundberg Family Farms, a brand committed to bringing you wholesome and delicious food.
We're all about sharing fantastic opportunities, and this one is too good to pass up. It's not an advertisement; it's a friendly tip to help you elevate your culinary experience with Lundberg's delectable rice.
So, click the link below to claim your voucher and embark on a journey of taste and convenience. It's time to savor the goodness of Lundberg Ready to Heat Rice, and there's no better way to start than with a free sample.
Want more free stuff? Check out our Free Samples Page
Remember, this offer is all about spreading the joy of good food. Enjoy your culinary adventure, and bon appétit! 😊