Your Guide to Snagging a Moroccanoil Hydrating Styling Cream Sample
Hello, fellow beauty enthusiasts! I've got some exciting news to share. If you're a fan of Moroccanoil, you're in for a treat. They are offering a fantastic opportunity to claim a free MoroccanOil Hydrating Styling Cream sample, and I'm here to show you how to get in on the action. But remember, it's not me or my website providing this sample; it's all about helping you add a touch of hydration and luxury to your haircare routine.
How to Claim Your MoroccanOil Hydrating Styling Cream Sample:
Moroccanoil is giving away freebies through sponsored posts on Facebook and Instagram, and it's super easy for you to get your hands on this hydrating marvel.

Here are the simple steps to follow:
1. Like the Moroccanoil Page: First, make sure you're following the Moroccanoil page on either Facebook or Instagram. This is your ticket to the world of haircare luxury.
2. Engage with Moroccanoil Content: Show some love by engaging with Moroccanoil's page and content. Like their recent posts, leave comments, or take a moment to watch their videos or stories. It's a way of joining the Moroccanoil community and staying updated on their latest offerings.
3. Look Up the Moroccanoil Hydrating Styling Cream: Use the Facebook/Instagram search bar to look up the Moroccanoil Hydrating Styling Cream. You can also visit the MoroccanOil website for additional information.
4. Keep an Eye Out: Once you've completed these steps, keep a close watch on your Facebook and Instagram feeds. You'll soon come across a Moroccanoil sponsored ad that looks like this: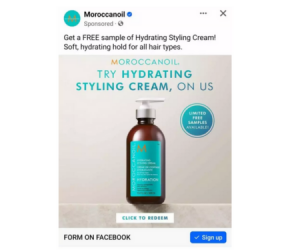 It's essential to note that this isn't about advertising; it's about sharing the love for quality hair care. Moroccanoil is known for its nourishing and hydrating products, and this is your opportunity to experience their excellence firsthand.
Now, a quick tip to enhance your chances is to keep engaging with Moroccanoil's content and the haircare community. The more involved you are, the more likely you are to spot the sponsored post.
So, if you're a haircare aficionado or just someone looking to add a touch of luxury to your daily routine, don't miss this chance. Follow these simple steps, and before you know it, you'll be enjoying the magic of Moroccanoil's Hydrating Styling Cream. Your hair will thank you for it!