Free Carmex Moisturizing Mini Lip Balms
November 9, 2023, BY Liliana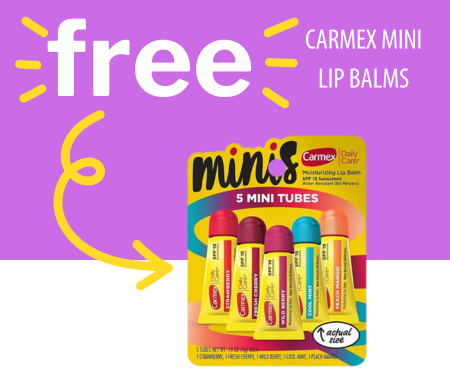 Unlock Beauty Bliss: How to Score Free Carmex Moisturizing Mini Lip Balms
Hey, beauty enthusiasts! Exciting news—I've stumbled upon a golden opportunity for you to snag some free Carmex Moisturizing Mini Lip Balms. Now, I know what you're thinking, "Not another ad," but hear me out. It's a guide on how you can dive into the world of free beauty goodies without spending a dime.
So, what's the secret? It's all about joining the Carmex Club. This exclusive group is your ticket to a year-round supply of free samples and products from Carmex.

But hold on, I'm not the one giving away these goodies—it's the generous folks at Carmex, and they want you to join the club.
To kickstart your freebie journey, all you need to do is sign up for the Carmex Club. Head over to their website, fill out a simple form with your information, and voila—you're in! No hidden agendas, no catch, just a straightforward sign-up to unlock the treasure trove of Carmex products.
Now, here's the fun part. Throughout the year, Carmex will randomly select lucky members from the club to receive free stuff. It's like a beauty lottery, and you could be the next big winner!
So, go ahead, join the Carmex Club, and let the freebies roll in. You won't regret joining this fantastic club full of free samples for its members. Your moisturized lips will thank you!
Want more free stuff? Check out our Free Samples Page