Snag a Free Bag of Cretors™ Popcorn!
June 6, 2023, BY Emma Craig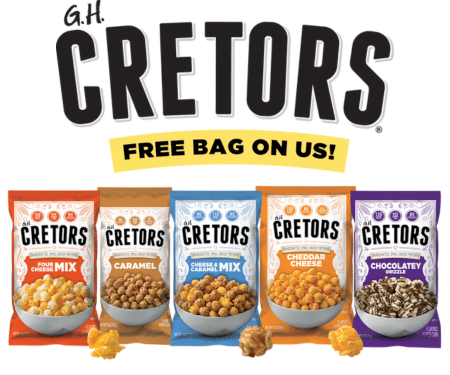 Get ready to crunch into the number one Cheese & Caramel Mix or any of the other fantastic flavors offered by Cretors™ Popcorn. Here's some exciting news: you can enjoy a bag of this delightful popcorn for free! Yes, you heard that right. Cretors™ is offering to reimburse the cost of one bag of their popcorn – up to $4.75!
The process is incredibly simple.
Make a trip to your local retailer and buy a bag of Cretors™ Popcorn.
Click a picture of your receipt and send it to Cretors™ via text message.
Wait for the magic to happen! Within 24 hours, they'll reimburse you for the cost of one bag through Venmo or PayPal.
Indulge in the gourmet popcorn experience of Cretors™ without even touching your wallet.

Whether you're a fan of the classic Cheese & Caramel Mix or want to explore their other mouthwatering flavors, now is your chance. Hurry, grab a bag of Cretors™ Popcorn from your local retailer today, and enjoy a snack break on them!
To claim your free sample click here.