Sample Halo Holistic Dog Food For Free
June 5, 2023, BY Emma Craig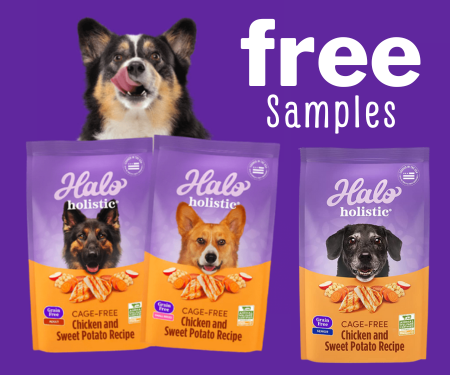 Does your furry friend fancy trying something new? If so, Halo Holistic is rolling out an opportunity that's hard to resist. In return for a review, they're giving away free samples of their revamped dog food. Yes, you read it right, your beloved pup can sample Halo Holistic dog food without spending a dime! Halo Holistic's Cage-Free Chicken & Sweet Potato Recipe Dog Food is the brainchild of seasoned veterinarians and pet nutrition specialists. It boasts several benefits, some of which include:
Ethically Sourced: The chicken incorporated is Global Animal Partnership (GAP) certified, raised without antibiotics, and pairs well with non-GMO ingredients.
Comprehensive Digestive Support: With the inclusion of prebiotics, probiotics, and postbiotics, this dog food ensures optimal digestive care and bolsters your pet's immunity.
Quality Ingredients: The dog food is prepared in the USA with premium ingredients and is devoid of meat meals, guaranteeing exceptional nutrition and digestive support.
Skin and Coat Care: Formulated with an ideal balance of Omega-fatty acids, this dog food helps maintain your dog's coat in a shiny and healthy condition.
Ultimately, if you're intrigued and wish to secure a free sample, the process is straightforward. Just answer a few questions to verify if you qualify. So, why wait? Apply now and offer your four-legged best friend a taste of the finest food on the block!
For additional information about Halo Holistic, and to claim your sample please click here.