Free Zing Bar
November 16, 2023, BY Liliana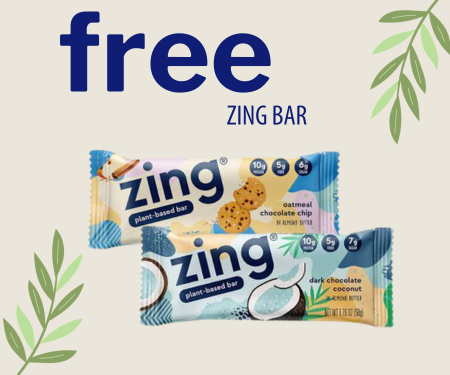 Unwrap a Tasty Surprise: Your Guide to Snagging a Free Zing Bar
Hungry for a delightful treat that won't cost a penny? Zing Bars, in collaboration with Sampoll, is offering a complimentary Zing Bar for those who seize the opportunity. Let me walk you through the simple steps to ensure you don't miss out on this delicious freebie.
Zing Bars, known for its scrumptious and nutritious offerings, is giving away free Zing Bars at participating retailers. The best part? It's not a promotion from us or our website; it's a genuine offer waiting for you to claim.

No catch, just a chance to savor a Zing Bar on the house.
How to Get Your Free Zing Bar:
Visit the Provided Link: Head to the link provided to access the offer. This is your gateway to a delightful snacking experience without spending a dime.
Sign Up for the Offer: Once on the page, sign up to take advantage of this fantastic freebie. Quick and easy, ensuring you're on your way to enjoying a Zing Bar in no time.
Why Zing Bars? Zing Bars are not just tasty; they're a wholesome snack option packed with goodness. Whether you're a fitness enthusiast or just looking for a delicious and nutritious pick-me-up, Zing Bars have you covered.
The opportunity to treat yourself to a free Zing Bar is too good to miss. Follow the simple steps, sign up, and get ready to unwrap a tasty surprise. It's not an ad; it's a friendly tip to elevate your snacking experience. Happy munching!
Want more free stuff? Check out our Free Samples Page