Free SimplyV Plant-Based Cream Cheese
June 6, 2023, BY Emma Craig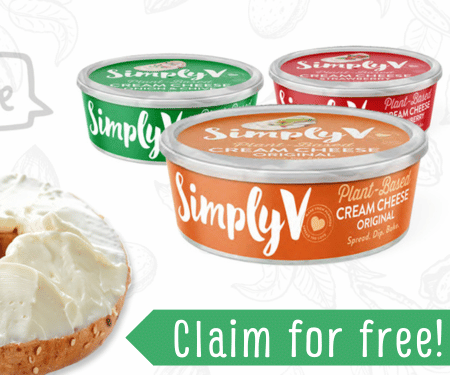 We have some exciting news that will make your taste buds dance with joy. Introducing SimplyV Plant-Based Cream Cheese, the perfect dairy-free alternative for spreading, cooking, and baking. And guess what? You can now get a FREE 8oz bar or tub of this delicious cream cheese in any flavor, valued at up to $6.99! We're thrilled to share this fantastic opportunity for you to experience the creamy goodness of SimplyV firsthand. So, read on to find out how you can claim your free sample today!
SimplyV cream cheeses offer the ultimate choice for those seeking a plant-based and dairy-free option.
Say goodbye to gluten and lactose, as these spreads do not contain any artificial preservatives, soy, or palm oil. As a result, they rely on the natural goodness of almonds to deliver an irresistible taste and a velvety smooth texture that will leave you craving more.
To conclude, in order to claim your FREE 8oz bar or tub of SimplyV Plant-Based Cream Cheese in any flavor, simply click the link below. Remember, we're here as messengers, bringing you this amazing opportunity to try these fantastic samples. But act quickly, as supplies are limited. Don't miss out on the chance to discover the creamy delight of SimplyV and elevate your culinary adventures.
Want more free stuff? Check out our Free Samples page.