Free Revlon Illuminance Foundation
October 23, 2023, BY Liliana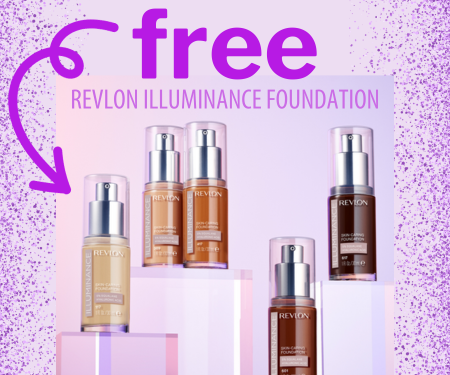 How to Score a Free Revlon Foundation Sample – Shine from Within!
Are you ready to revamp your beauty routine without breaking the bank? Say hello to the Revlon Illuminance Skin-Caring Foundation! This revolutionary product promises to boost your skin's natural radiance, giving you that coveted glow that shines from within. But here's the best part: you can get a free sample to try it out yourself. This blog post will guide you through the simple steps to snag your own free Revlon foundation sample.
What Is the Revlon Illuminance Skin-Caring Foundation?
Before we dive into claiming your free sample, let's talk about what makes the Revlon Illuminance Foundation so special.

This unique foundation is not just about enhancing your beauty; it's also about nurturing your skin from within. Unlike other foundations that simply cover imperfections, this one actively works to reduce the appearance of wrinkles and signs of aging. It's like a skincare and makeup hybrid!
How to Get Your Hands on a Free Sample:
Now, you might be wondering, "How can I score a free sample of this amazing foundation?" It's a breeze! Revlon is offering a free sample card featuring 12 of their most popular shades, and here's how you can claim it:
Visit the Offer Page: First, head over to the offer page
Fill Out the Form: Once you're on the offer page, fill out the required form. It's a straightforward process, so you'll be done in no time.
Check Your Inbox: After submitting the form, keep an eye on your inbox for a confirmation email. This email will contain all the details about your freebie.
Wait for Your Freebie to Arrive: With the confirmation email in hand, all that's left to do is patiently wait for your free Revlon Illuminance Skin-Caring Foundation sample to be shipped to your doorstep. Exciting, right?
This is your chance to test out a product that promises to make your skin look amazing. The Revlon Illuminance Foundation isn't just another makeup item; it's a skincare superhero that nourishes your skin while providing coverage. Plus, with 12 popular shades to experiment with, you can find the perfect match for your skin tone.
You now know how to get a free Revlon Illuminance Skin-Caring Foundation sample without spending a dime. It's easy, it's fun, and it's an excellent way to discover a product that could become your new beauty favorite. So, go ahead and follow the steps mentioned above to claim your sample. And when your freebie arrives, don't forget to share your thoughts with us. Happy sampling, and may your skin continue to shine from within!
Want more free stuff? Check out our Free Samples Page