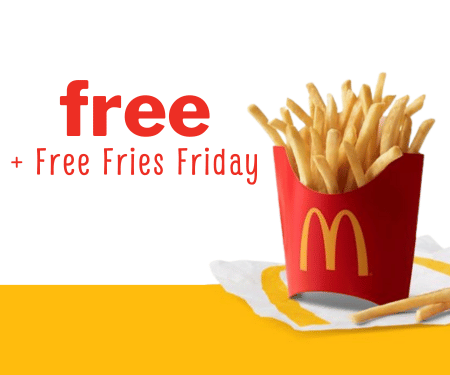 Craving for that crispy, golden goodness that only McDonald's fries can provide? Here's your chance to indulge without the splurge! McDonald's, the iconic fast food giant, has an exclusive, mouth-watering deal just for you: Free Large Fries Now + Free Fries Friday. Yes, you read that right! Free. Fries. Could anything be better?
Your path to this irresistible offer is surprisingly easy.
All you need to do is download the McDonald's app and join the MyMcDonald's Rewards program. Once you're in, prepare for a rush of benefits. To start off, you'll get a free large fries with a minimal purchase of just $1.* That's not all; being a part of MyMcDonald's Rewards program allows you to earn points with every eligible order you make. And what's more enticing than the opportunity to earn your way towards more free food?
But that's not where the journey ends. McDonald's is taking its love for fries (and for you) a notch higher with Free Fries Friday.
With this amazing deal, you will receive a free medium fries with any $1 minimum purchase, exclusively through the McDonald's app.* Make it a fry day, every Friday, and better yet, invite a friend to join the celebration. After all, happiness (and fries) are better when shared!
What's holding you back?
The offer is at your fingertips. Make the most out of it and bring home that heavenly scent of freshly cooked McDonald's fries. It's time to reward yourself and give in to the temptation. And remember, this isn't just about fries, it's about making each day a little brighter, a little tastier, and a lot more fun.
So, ready to grab your free fries? Download the McDonald's app and embark on your journey to delectable rewards! This isn't just a taste sensation; it's an incredible deal you wouldn't want to miss.
*Offer valid only in the McDonald's app, subject to terms and conditions.