Free Estée Lauder Skin Tint Serum
October 24, 2023, BY Liliana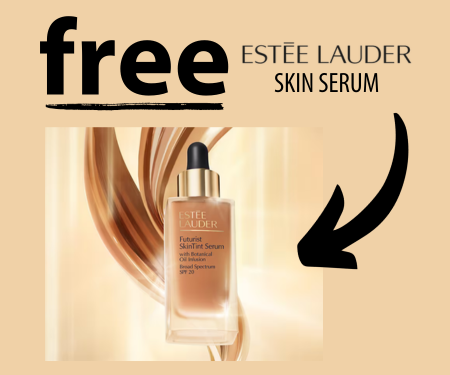 Unlock Your Glowing Skin: How to Get a Free Estée Lauder Futurist Skin Tint Sample
Have you been in pursuit of the perfect skin tint that provides both radiance and hydration? Look no further! Estée Lauder is giving away free samples of their new Futurist Skin Tint Serum with SPF 20, and we're here to show you how to claim yours without any strings attached.
Where to Find Your Free Sample
First things first, let's clear up a common misconception – we're not the ones giving away this fantastic sample. Estée Lauder is generously offering it to beauty enthusiasts like you. So, how do you get your hands on this exciting freebie?
The Social Media Route
Estée Lauder has chosen to distribute these coveted samples through sponsored posts on Facebook and Instagram.

This means there isn't a direct link to the offer. But don't worry; there are simple steps you can follow to increase your chances of seeing it in your social media feed.
Step 1: Like and Follow Estée Lauder
Start by liking and following Estée Lauder's page on Facebook and Instagram, assuming you use these platforms. This way, you'll stay up to date with their latest offerings.
Step 2: Engage with the Brand
Engaging with the brand can significantly boost your chances of discovering this delightful freebie. Show some love by liking their recent posts, leaving thoughtful comments, or even watching their latest videos. The more you interact, the more likely you are to see their sponsored post.
Step 3: Do Some Independent Research
Head over to the Estée Lauder website and search for the Futurist Skin Tint. You might just stumble upon the opportunity to claim your free sample.
By following these steps, you'll be well on your way to enjoying the radiant and hydrated look you've been searching for, courtesy of Estée Lauder's Futurist Skin Tint Serum with SPF 20.
Getting a free sample of Estée Lauder's Futurist Skin Tint Serum is easier than you might think. It's all about being active on social media, engaging with the brand, and, if you're in a hurry, doing a quick search on their website. So, go ahead, take these steps, and get ready to embrace your natural beauty with this fantastic freebie.
Remember, this is simply a friendly guide to help you get your hands on an exciting sample that can elevate your skincare routine. Get glowing, and enjoy your Estée Lauder Futurist Skin Tint Serum!
Want more free stuff? Check out our Free Samples Page