FREE Crumbl Cookies
November 9, 2023, BY Emma Craig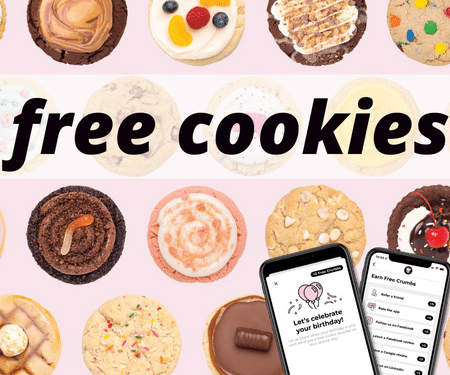 Sweet Rewards Await: Introducing the Crumbl Loyalty Program!
Craving a sweet deal that won't cost you a dime? The Crumbl Loyalty Program is your golden ticket to a cookie paradise. Let me guide you through the simple steps of earning and enjoying those delectable FREE Crumbl Cookies.
Getting your hands on these irresistible treats is a breeze. Just sign up for the Crumbl Loyalty Program by entering your phone number either in-store, on the website, or through the Crumbl App. It's like unlocking a secret door to a world of sweetness.

For every dollar you spend on your favorite Crumbl delights, you earn Crumbs—your golden currency for all things sweet. Catering orders also count, so you can celebrate and earn simultaneously.
Redeeming Sweet Rewards: From Crumbs to Crumbl Cash
Once your Crumbs stash reaches its peak, it's time to cash in and indulge. Trade them for Crumbl Cash that you can use online, in-store, or through the app. It's like having a cookie currency that brings joy with every bite. But wait, there's more! Birthdays become even sweeter with a FREE Crumbl cookie annually. Double Crumb Days and bonus point opportunities add an extra sprinkle of excitement to your journey, ensuring you reach your FREE treats faster.
For the ultimate Crumbl experience, don't forget to download the Crumbl App. Enjoy personalized ordering, exclusive birthday rewards, and a world of convenience at your fingertips. It's not just about cookies; it's about a personalized, sweet escape.
Want more free stuff? Check out our Free Samples Page
Ready to turn your cravings into a sweet reality? Sign up for the Crumbl Loyalty Program today, and let the aroma of FREE Crumbl Cookies fill your life with joy. Indulge, earn, and savor the moments—because at Crumbl, every cookie comes with a story, and yours begins now.