Free Box of NoBull Veggie Burgers
June 6, 2023, BY Emma Craig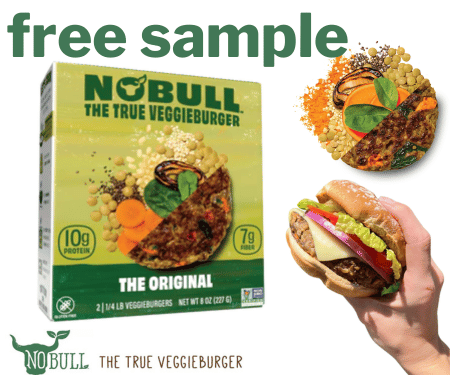 Get ready to indulge in a mouthwatering plant-based feast with NoBull Veggie Burgers – the unbeatable burger that satisfies your cravings and tantalizes your taste buds! If you've been on the hunt for an exciting culinary experience, look no further. NoBull Veggie Burgers is offering an exclusive deal that you won't want to miss – a FREE box of these delectable burgers valued at up to $6.99!
Don't let this golden opportunity slip away, as supplies are limited. Act now to claim your free box of NoBull Veggie Burgers before they're all gone. Whether you're a dedicated vegetarian or simply exploring more plant-based options in your meals, these burgers are a fantastic choice that will leave you satisfied.
NoBull Burger offers an array of delightful flavors that will excite your taste buds.
Each burger is carefully crafted using premium ingredients, guaranteeing an exceptional and flavor-packed experience.

From classic options like the Original and Savory Mushroom to bolder choices like the Spicy Italian and Madras Curry, there's a flavor to suit every palate.
To get your hands on a FREE box of NoBull Veggie Burgers, simply sign up with your email HERE.. Furthermore by subscribing, you'll be among the first to receive updates, exclusive offers, and exciting news from NoBull Burger. Don't miss out on this fantastic chance to savor the authentic goodness of NoBull Burgers without spending a dime!
To claim your free sample click here.